WELCOME TO THE LABORATORY OF PLANNING FOR URBAN AND REGIONAL RESILIENCE

Building A Safe, Resilient, Diverse and Vibrant City
As proved once again by 2011 mega-earthquake that hit Japan, a lot of communities and cities in Japan and across the Globe are exposed to the risk of disasters, like flood, quake, fire and tsunami.
The Laboratory of Planning for Urban and Regional Resilience was started by Dr. H. Nakamura in April 2012, in pursuit of more livable and sustainable way of urban planning and designing.
Research projects in the laboratory focus on multidisciplinary studies across architectural, environmental, social and urban-engineering fields with an emphasis on how to build a safe, resilient, diverse and vibrant city - rather than disaster-protected but unlivable area.
LABORATORY OF PLANNING FOR URBAN AND REGIONAL RESILIENCE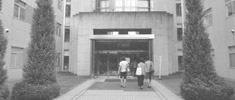 Department of Planning, Architecture and Environmental Systems
College of Systems Engineering and Science
Shibaura Institute of Technology
Room 5522, Building No.5
307 Fukasaku, Minuma-ku, Saitama-shi, Saitama
337-8570, JAPAN
For contact details, please click here.